Main | Tools and Materials | Winding the Coils | Cutting the Rings
Knitting the Maille | List of Weaves | My Other Projects | Accessories
List of Armour Terms
Whoa hoo!
I have just made maille making history!
I am the first person to create a 6 in 1 version of dragon scale (See the List of Weaves page). The question was raised in this thread on the Chainmaille Board as to whether there was a 6 in 1 version of dragon scale, so I proved myself up to the challenge, and knit this first ever piece of 6 in 1 dragon scale, hence forth to be known as "Fafnir's scale".
I am obscenely pleased with myself.
I used very large rings (7/8" ID and 1/2" ID) to make this example, in order to make it easier to knit. Perhaps I will make another example with smaller rings at a future date.
The project was completed on June 11, 2003.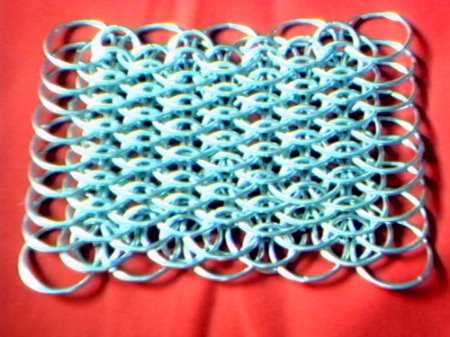 The first ever example of Fafnir's scale, a 6 in 1 variant of dragon scale.
NOTE: In case you do not know, Fafnir was a dragon from Norse mythology, defeated by the hero, Siguard.
Main | Tools and Materials | Winding the Coils | Cutting the Rings
Knitting the Maille | List of Weaves | My Other Projects | Accessories
List of Armour Terms