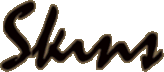 Current number of skins in the emporium: 302
To preview a skin, move the cursor over the skinís preview button

until it glows

, then click on it to open the preview window.
Each skin may have special features. These are represented by icons that appear in a box directly above the preview animation. Here are the icons, and what they represent:
Legend:
| | |
| --- | --- |
| | The skin includes a new statis bar face. |
| - | The skin includes new player sounds. |
| | Includes graphics for an exploding death (Not just a repeat of the regular death). |
To download a skin, click on the file name.

Categories:
52
skins

Conversions I
Skins converted from DooM, DooM II, Heretic, Hexen, and Strife.

30
skins

Conversions II
Skins converted from non-DooM engine games.

70
skins

Conversions III
Skins converted from graphics pwads and total conversions (TCs).

9
skins

Personal Skins
Skins made by players as a personal representations of themselves.

57
skins

Original/Miscellaneous
Scratch built skins, variants, and mutations.

84
skins*

Skin Packs
Files containing multiple skins.
.