Main | Tools and Materials | Winding the Coils | Cutting the Rings
Knitting the Maille | List of Weaves | My Armour Project | Accessories
List of Armour Terms


This page is currently under construction.
Please be patient while I get it working.
When I first saw the maille mantle of Peteís helmet, it could be best described as being completely torn to rat shit, and it only got worse from there.
A year later, I just couldn't stand it any more. I just had to fix it. As the cantonís most experienced maille armourer, it was only natural.
After a month of pestering him, I finally got Pete to let me have his helmet on June 1, 2003. At this point, the repair was something of a rush job, because it was Sunday evening, and the canton had already agreed to do a school demo on the following Friday. I took the helmet home, and started to work at roughly noon the next day.
Here is what I had to work with: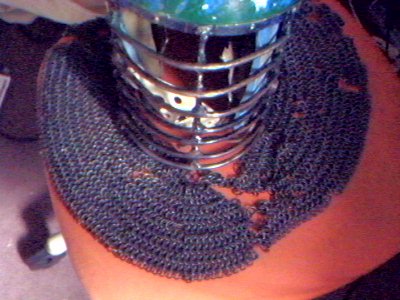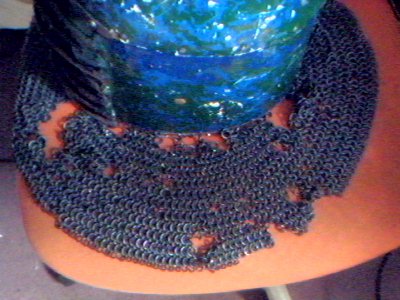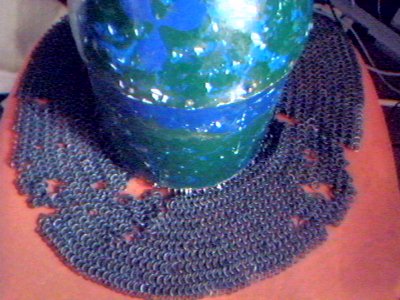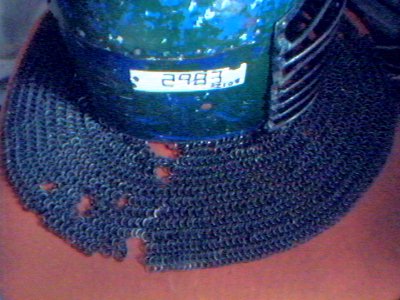 The mantle was in terrible shape, with numerous holes of varying sizes. The two largest holes were in the front, with only a delicate bridge of rings separating them. The mantle was no longer attached to the helmet in three or four places, and the most of the vervelles, which were supposed to hold the mantle to the helmet, were gone*. In fact, the mantle was held on to the helmet with string in several places, and the entire front section, comprising a full third of the mantle was tied to the bottom of the face guard with a length of rope.
*To be honest, they were not really vervelles. They were rings threaded through holes in the lower edge of the helmet, acting much the same as vervelles. True vervelles are essentially round staples permanently fastened like rivets.